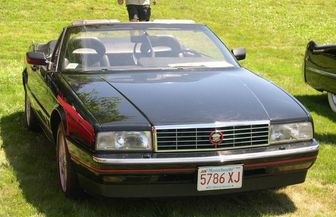 Picture has been licensed under a
GFDL
Original source
: : Photographed at the Bay State Antique Automobile Club's July 10, 2005 show at the Endicott Estate in Dedham, MA by User:Sfoskett
Type
2S FHC
Designer
Pininfarina
Wheelbase
2525 mm 99.4 in
Track: Front
1534 mm 60.4 in
Track: Rear
1534 mm 60.4 in
Length
4539 mm 178.7 in
Width
1864 mm 73.4 in
Height
1308 mm 51.5 in
Length:wheelbase ratio
1.8
Kerb weight
1708 kg 3765 lb
Bore
93.00 mm
Cylinders
V-8
Displacement
4.6 litre4565 cc(278.573 cu in)
Compression ratio
10.30:1
Maximum power
299.1 PS (295.0 bhp) (220 kW)@ 5600 rpm
Specific output
64.6 bhp/litre1.06 bhp/cu in
Maximum torque
393.0 Nm (290 ft?�·lb) (40.1 kgm)@ 4400 rpm
bmep
1081.8 kPa (156.9 psi)
Specific torque
86.09 Nm/litre
Manufacturer
GM
Coolant
Water
Bore/stroke ratio
1.11
Unitary capacity
570.63 cc/cylinder
Aspiration
Normal
Compressor type
N/A
Intercooler
None
Catalytic converter
Y
Power-to-weight
172.72 bhp/ton
Engine location
Front
Engine alignment
Unknown
Drive
FWD
Suspension
front I.MS.L&TLi.ARB.
Transmission
4A
RAC rating
42.9
year
1993
Cadillac Allanté with close-up roof Cadillac Allanté rear view 1990 brought about a second model, a lower-priced ($53,050) companion model that did not come with the removable aluminum
The Cadillac Allanté may tout its swanky styling roots, but for all intents and purposes the squared off convertible resembles some of the more basic forms of transportation in the General
The Cadillac Allanté was Cadillac's first venture into the luxury roadster market and was sold from 1987 through 1993.
Plan now for the 7th Cadillac Allanté National meet / Vacation in Myrtle Beach- September 21 - 27th, 2010 We start out Tuesday evening to Luray Caverns, VA.
The result was the Cadillac Allanté which was produced from September of 1986 until 1993.
Oh, and has anyone mentioned the Cadillac Allanté? That was a serious item of lust in my youth. And in my rapidly-approaching middle age, too.
Cadillac Allanté with neutral interior is absolutely perfect. There is no other one like it in the world. I have been...